Tools - Document Management
The Shift Admin system contains a detailed document management center, including group and personal document storage and tracking.
The group document center allows the administrator to upload, edit, and delete documents with file type and descriptions for each document. An administrator can also give these upload rights to other users as they choose.
The personal document section allows users to store and manage any type of personal document. These documents can be made available to other users such as administrators who might need them for credentialing or confirmation of competency.
Soon you will be able to set Expire dates on personal documents and get reminders when documents are about to expire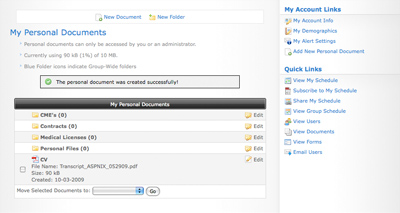 Testimonials
"The Shift Admin customer service is outstanding. I don't think I've ever waited more than five minutes for a response to an email. Their answers, explanations, and instructions are clear and concise. Our "wish list" seems to always become their "to do" list. I feel very confident doing the scheduling for our complex group knowing that the people from Shift Admin are always there to back me up."
Leo Mayer
Boston, MA
Contact Us
If you are ready to get started with Shift Admin, or if you'd just like some more information, please contact us by using the contact form or by calling our toll-free number at 1-888-744-3840.

Intro and FAQ Videos