Tools - Communication
Shift Admin provides a number of tools to improve group and individual communication in the shift work environment.
Shift Admin has a robust internal system that allows users and administrators to communicate with each other via email or SMS testing regardless of their location, and allows you to send emails or SMS texts to the entire group, small groups of users, or individual users.
System administrators can control how much user information is available to other users, such as contact info, educational and professional info, and other demographics.
Users can offer shifts to all available users at once using the shift posting capabilities, eliminating the need to call numerous co-workers to find a replacement.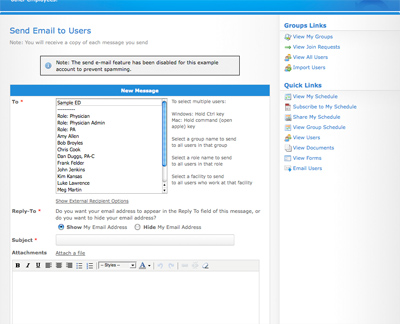 Testimonials
"Shift Admin scheduling has turned out to be a great decision for us. Creating lifestyle-friendly schedules that keep our 23 providers from feeling burned out is a challenge, but ShiftAdmin's ability to incorporate all of our individual requests and preferences makes creating good schedules easy. Switching shifts, planning vacation time and viewing schedules online is tremendously convenient. ShiftAdmin has taken some of the stress away from our jobs as emergency medicine providers."
Barbara Griffith, MD, FACEP
Durham Emergency Physicians, PA
Contact Us
If you are ready to get started with Shift Admin, or if you'd just like some more information, please contact us by using the contact form or by calling our toll-free number at 1-888-744-3840.

Intro and FAQ Videos