Tools - Schedule Management
Shift Admin is a completely web-based schedule management system for Emergency Medicine, Hospital Medicine, Radiology, Anesthesia, Urgent Care, Surgery, and more. The system allows you to manage schedules for one or many facilities, and features include user and administrative shift posting/trading/splitting, schedule requests, auto schedule generation, easy printing, automatic syncing with external calendar software, private and public URL options, extensive administrative controls, extensive stats and reporting, payroll functionality, and much more.
The Shift Admin system provides robust schedule management for both schedulers and users.
Schedulers
Ability to customize schedules with facilities, shift types, shift order and times
Let Shift Admin generate a schedule for you. Shift Admin offers an Automated Schedule Generation add-on that can generate optimized schedules based on fully-customizable constraints and rules. The Shift Admin schedule generator features a simple but powerful user interface, and the underlying scheduling algorithm is world-class. The Auto Scheduler will generated a schedule for you in minutes (or seconds!)
Ability to share the group schedule with non Shift Admin users through the use of a public URL
Group Statistics section allows for tracking of hours, nights, weekends, holidays, etc
History of all schedules and schedule changes made
Ability to control access to shift management features used by staff (posting, assigning, trading, splitting shifts)
Ability to either require approval or automatically approve shift trades and pickups
Ability to post open shifts with alerts
Automatic reminders sent for shifts that remain open as date nears
Add notes to shifts or to dates on the schedule
Users
Group schedule views for each group or hospital where the user works
My schedule view showing just the user's schedule, including multiple shifts in multiple locations
Ability to post shifts as available for other users to pickup, ability to trade shifts, ability to offer shifts, ability to assign other users to shifts, ability to adjust start/end times of shifts, etc. (rights based on roles defined by admins)
History of all shifts posted and picked up
Reminder emails for shifts that have been picked up
Submit schedule requests (days off/on, specific shift on/off, times off, vacation request) online
Ability to subscribe to your schedule using programs such as Outlook 2007+, Apple iCal, Google Calendar, and others
Ability to share your schedule with non Shift Admin users (such as family and friends) through the use of a public URL
Mobile version of the system for easy viewing on a mobile phone or tablet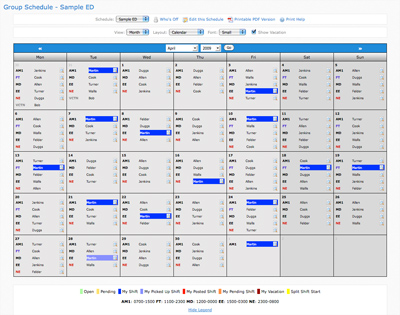 Testimonials
"Shift Admin is an exceptional system, but more importantly the support you get is fast and from ED physicians who understand your problems and solve them. Their honest and prompt, effective efforts make them a pleasure to work with."
Stephen Coniaris, MD
Tuba City Regional Health Care Corp
Contact Us
If you are ready to get started with Shift Admin, or if you'd just like some more information, please contact us by using the contact form or by calling our toll-free number at 1-888-744-3840.

Intro and FAQ Videos