Tools - Document Management
The Shift Admin system contains a detailed document management center, including group and personal document storage and tracking.
The group document center allows the administrator to upload, edit, and delete documents with file type and descriptions for each document. An administrator can also give these upload rights to other users as they choose.
The personal document section allows users to store and manage any type of personal document. These documents can be made available to other users such as administrators who might need them for credentialing or confirmation of competency.
Soon you will be able to set Expire dates on personal documents and get reminders when documents are about to expire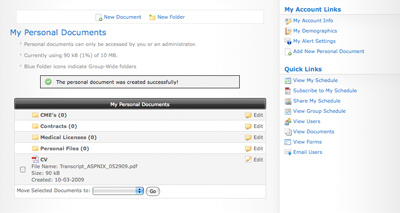 Testimonials
"The Shift Admin software has been wonderful for our company. Our group supports 9 facilities with over 100 physicians. We really appreciate the way we can define parameters for both the company and the individual physicians. We have some very specific scheduling patterns for a subset of our physicians and the Shift Admin programmers were able to design a way for us to deal with them. The support from everyone at Shift Admin has been and continues to be fantastic. They give us prompt attention with great attention to detail. We wholeheartedly recommend Shift Admin to any company large and small."
Emergency Resources Group
Jacksonville, FL
Contact Us
If you are ready to get started with Shift Admin, or if you'd just like some more information, please contact us by using the contact form or by calling our toll-free number at 1-888-744-3840.

Intro and FAQ Videos