Tools - Communication
Shift Admin provides a number of tools to improve group and individual communication in the shift work environment.
Shift Admin has a robust internal system that allows users and administrators to communicate with each other via email or SMS testing regardless of their location, and allows you to send emails or SMS texts to the entire group, small groups of users, or individual users.
System administrators can control how much user information is available to other users, such as contact info, educational and professional info, and other demographics.
Users can offer shifts to all available users at once using the shift posting capabilities, eliminating the need to call numerous co-workers to find a replacement.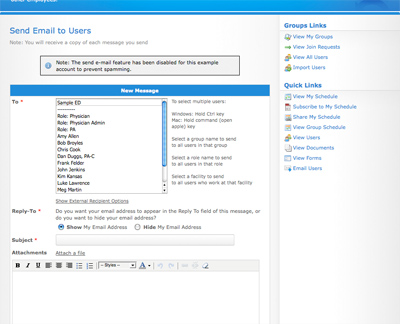 Testimonials
"We have been using Shift Admin for 2 years now. We find the company to be extremely helpful and remarkably responsive to our needs. Any questions we have get immediately answered. It is quite intuitive to work with, the simplicity for the end-user is outstanding. For the administrator, there are many options for data capture. When we grew from a one hospital to a 2 hospital operation, it became essential to have this program in place."
Bruce Hubbard, MD
EMPAC
Contact Us
If you are ready to get started with Shift Admin, or if you'd just like some more information, please contact us by using the contact form or by calling our toll-free number at 1-888-744-3840.

Intro and FAQ Videos